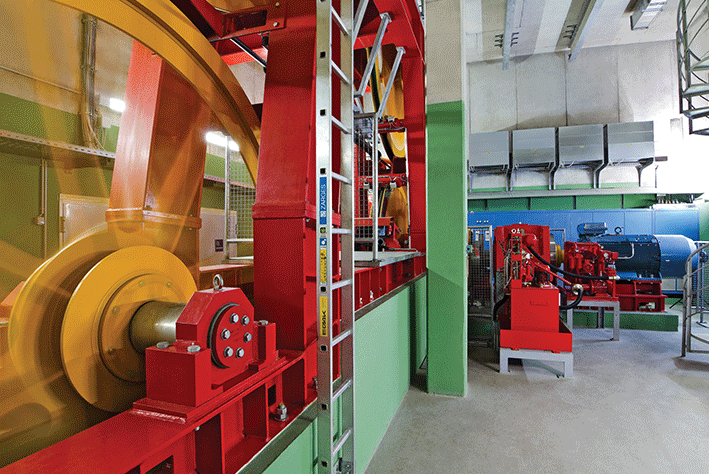 EXCITING CABLE CAR TECHNOLOGY
The Wetterhornaufzug CableCar, built in Grindelwald / Switzerland in 1908, was only the first of many milestones installed by the Doppelmayr / Garaventa group in modern rope cable technology. The Group is the undisputed leader and guide of the market in terms of innovation and quality in roped cable-car technology with its 60% share in world markets. Roped cablecars are excellent vehicles that provide access to nature in a wide range of steep valleys, rivers, glaciers, or many other hard-to-reach areas. The Olympos Roped Cable Car facility is operated by Doppelmayr / Garaventa company, which is designed and built in accordance with European CEN norms and harsh environmental conditions, equipped with the most modern technological roped Cable car.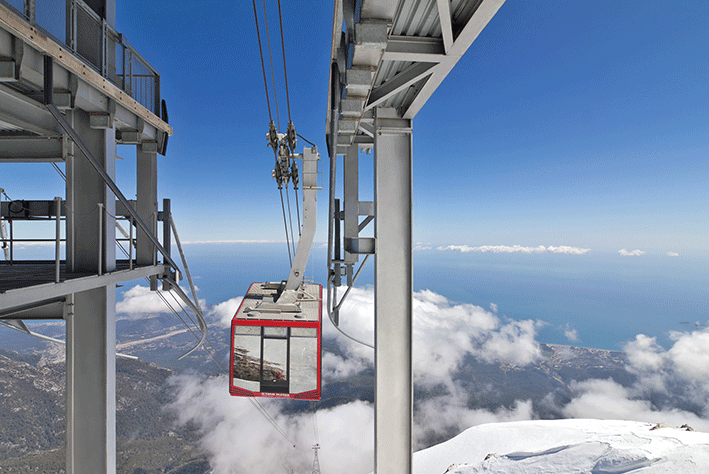 This modern roped cable car, operated on our route between 4.350m and the longest in the world, offers its guests a safe and comfortable experience at a height that is refreshing, away from the stress and strain of the day. It is also a record and privilege for the world to climb the peak of the highest mountain near the sea with a steep climb. Our Cable Car has two cabins that are mutually voyageable in strips of independent carrying ropes. The cabinets are moved by pulling rope which is powered by a drive system installed in the subway station. Pulling and carrying ropes are been mounted on sliding supports above the posts built at certain points along the route.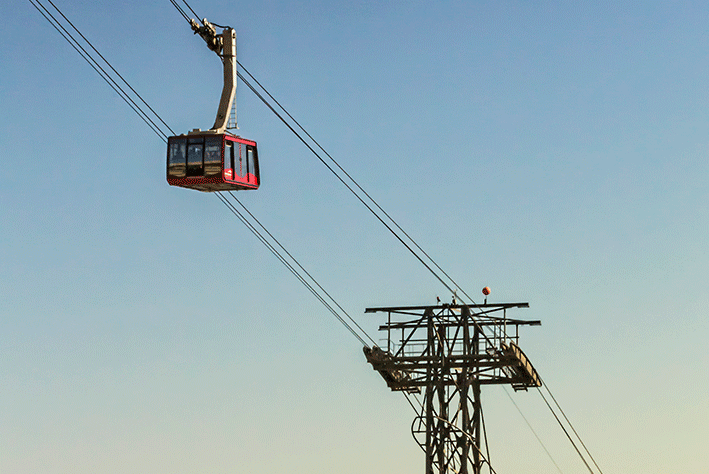 There are tension weights for the transport ropes in the subway station and fixed rope bosses at the peak station. This ensures that the cabs are always moved from the floor at a certain height. Another tensile weight was installed at the peak station for the hauling rope moved infinitely. Thanks to these measures, the ropes are kept under a constant tension despite the length differences from the variable loads or temperatures. For all technical aspects and maintenance of our Cable Car, we always act in accordance with the applicable norms and regulations of the cable car manufacturer and the instructions of other supplier technology companies.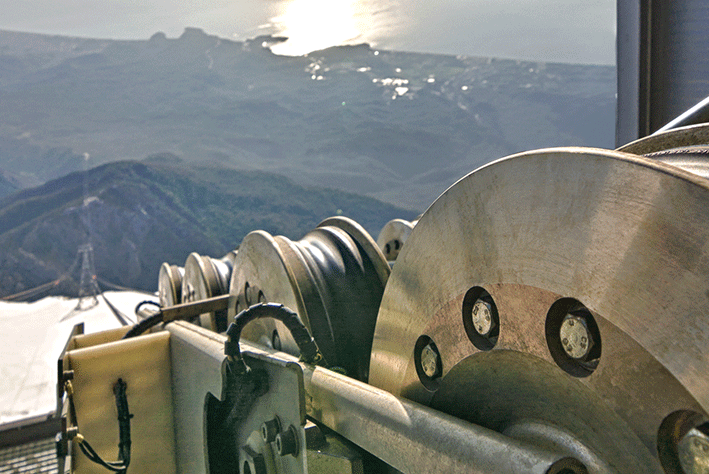 Unconditional security is a requirement of our belief, measures have been taken against all possible negativities. Our cable car facility, normally is fed from the public electricity grid, also has two independent large diesel generators. Thus, it is possible that our flights will continue to be fully independent and uninterrupted from the public electricity grid. Our facility also has an electro-hydraulic emergency drive system that can be used to evacuate our visitors from the peak station to prevent a possible electrical failure of the main drive system.
TECHNICAL INFORMATION

Opening
17. June 2007
Manufactured
Doppelmayr/Garaventa
Construction Time
3 Years
Technical Information
Cabin Capacity
80 Person
Maximum speed
10m/s
Travel time
10 min
Bearing capacity
470 Person/h
Elevation Lower Station
726 m (over sealevel)
Elevation Upper Station
2365 m (over sealevel)
Vertical Rise
1639 m
Line length
4350 m
Track Rope Diameter
4 x 51mm
Haul Rope Diameter
38 mm
Power of Main Drive
1000 kW
Power of Standby Drive
2x800 kW
Towers
4
Capacity of Safety Cable Car
25 kişi
Operating and Maintenance of the Cable Car
Operating and Maintenance
Olymposteleferik A.S. Doppelmayr/Garaventa ABB/Frey AG
Supervision
Ministry Turkey
The Ministry of Science, Industry and Technology
EU certified auditor
Certified Engineer H. Schupfer
EU certified rope auditor
ROTEC Deutschland
Insurance companies
MAPFRE General Insurance
Istanbul
XL-INSURANCE
London